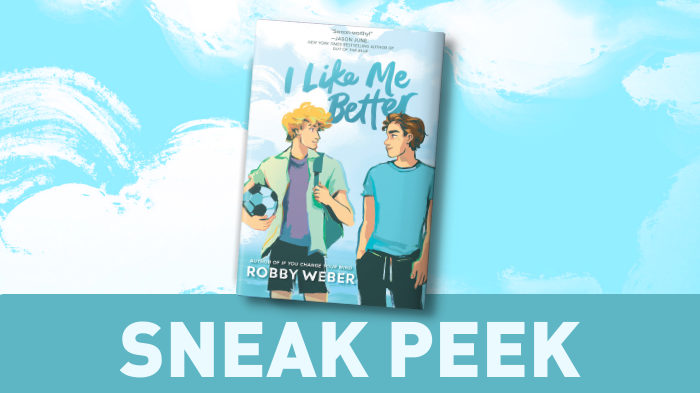 From the author of If You Change Your Mind comes an unforgettable new joyful summer rom-com that Jason June, New York Times bestselling author of Out of the Blue, calls "Swoon-worthy!"
This is not how soccer-star Zack Martin thought his summer would go. When the captain's prank means trouble for the whole squad, Zack's left with no choice but to take one for the team and cover for him.
Now he's trading parties and beach days for community service at a seaside conservation center—fair enough. But thanks to his new reputation, the cute intern, Chip, won't even give him a shot. Still, Zack finds himself falling for Chip between dolphin encounters and shark costume disasters, which means he suddenly has way more on the line than he ever expected.
Zack may be good at winning on the field, but can he keep up the lie without losing himself?
Start reading the first chapter of I Like Me Better down below!
Chapter 1: The Metaphorical Cleats
Whoever said winning isn't everything must not have won very often.
It's thanks to my winning goal at States last month that all the guys in the locker room cheer when I round the corner.
My best friend, Meyers, slings an arm over my shoulders and, in a pretty convincing Peter Drury voice, crows: "This is summer break! Zack Martin, rising star of the Citrus Harbor High Hammerheads, has slammed home an impossible goal at States. The captain spot is nearly his, but it all comes down to this summer—one match to make or break."
It's thanks to my many other winning goals that Ryan, our graduating captain, has taken me under his wing and gives me an approving nod from the end of the locker room. He thinks I'm a shoo-in to fill his metaphorical cleats next year. In fact, he already nominated me for it. We'll find out officially on the Fourth of July, after the annual charity match, when the team has a pool party and votes for the new captain—a tradition I am especially looking forward to this year.
It's also, ironically, thanks to my winning goals that Noel Hawthorne is practically glaring at me as he shoves his shin guards into his duffel bag. He's the only guy on the team who isn't ever happy to see me. His dad has put him in elite soccer camps since he was ten, and I think he's always been salty about not being the best on our team.
I've trained and worked hard—keeping my grades slightly above average, serving on homecoming court (a byproduct of being friends with Ryan), and helping with the team fundraisers, while also never missing a practice—and I now have the record number of goals for a Citrus Harbor High student since 1978.
My cheeks go hot when all the guys clap for me like I'm some kind of celebrity—it's nice and all, but I still feel like it can't be for me, like maybe there's somebody behind me everybody is actually excited to see.
Once everyone's attention is off me and back to their separate conversations, I raise a brow and Meyers grins.
"I really can't believe we're going to Ryan's party." He knocks into my shoulder as I make my way toward my locker. He looks down at his phone, running one hand through his fiery red hair. "I wonder if they're going to do, like, foam in the pool. And Hope is going to be there, obviously, and we'll finally have our second kiss, obviously."
"I don't think there will be foam in the pool," I say.
To my right, Beckett, my other best friend since kindergarten, is neatly folding his jersey.
"This isn't the `80s." Beckett grimaces and flicks a few strands of black hair from his face as he zips his bag and stands up straight. "I don't know, guys. I'm not sure if I'm in the mood for a party tonight, I'm wiped."
Meyers rolls his eyes. "Dude. This is the last day of our junior year, and we've been invited to Ryan's party. Us." He makes a grand gesture with open palms, then pitches his voice lower. "None of the other guys in our grade are going."
"Zack got invited," Beckett points out.
"But you guys are welcome to come," I say, balling up some socks I didn't even realize I'd shoved into my locker. "Ryan said so."
"It's an honor to be popular adjacent," Beckett deadpans.
"This is the culmination of everything," Meyers presses. "Zack scoring that goal at States. Him becoming the next captain. Plus, me and Hope will finally get together. Beckett, you got your internship. This is going to be the best summer of our entire lives and it's starting with the coolest party that we normally would only hear stories about."
"I think it's weird he doesn't invite the whole team," Beckett says, eyes shifting around to make sure none of our teammates are listening. His mouth curves into a frown and he fidgets with the wrapper of a granola bar.
Around spring break, his mom's family visited from South Korea and brought these life-changing chips filled with chocolate. Between Meyers, Beckett, and me—and with much discipline—the supply lasted for a couple months, and it became a mini tradition to eat them before practice. Now that there are none left, he's been suffering through healthy, fiber-rich protein bars for a couple weeks.
All that extra protein might be the reason he's bulked up more than Meyers, who side-eyes Beckett's bar now.
"Wait, dude." I close my locker and pick my backpack up off the floor, slinging it over one shoulder and turning to Beckett. "You got an internship?"
"Wow, talk about a delayed response time." Meyers rolls his eyes.
"Yeah, I told you." Beckett has a mouth full of protein bar and he's uncapping a stick of deodorant and slipping it under his shirt. "Summer internship with Irving Banks. His firm does, like, ridiculous multimillion-dollar houses. The email came through in final period."
"Making moves, Beck!" I bump the side of my fist to his.
"Get me one?" Meyers beams.
Beckett's mouth falls open. "An internship?"
"No, a multimillion-dollar house," he says.
"Right, of course. Coming right up."
A few of the graduating senior guys burst in and start showing their affection for the younger teammates: putting the sophomores in headlocks, slinging a pair of briefs across the room, and rapping their fists against the lockers while howling and laughing.
Beckett leans in and keeps his voice low: "They're an inspiration. I'm so glad graduation means ascension to a more mature existence."
"You boys talking shit?" Lawrence hums.
Meyers laughs it off. "We just missed you guys."
"Zack is really going to miss us next year," Lawrence says. "Don't worry, 2.0, you guys will just need some extra practices."
"Don't tease him, you're going to make him cry," Tate snickers.
I roll my eyes, though my chest gets tight, and my skull burns. I play it off like it's not completely embarrassing—just because I've cried a couple times after tough practices and had one minor incident when the seniors hazed us. Anyone could've gotten scared and cried. Anybody could have, but of course it was me.
"Guys, shut the fuck up." As Ryan appears next to Beckett, he's smiling, but he's also making a clear point and eyeing Tate and Lawrence, who stop laughing. He arches a brow and then gives me a pointed look. "Zack, I need to talk to you."
It makes sense why Ryan would be the most popular guy in his grade, and it makes sense why the team calls me 2.0, whether I like it or not. He's nominated me to take his place next year. Now, I just have to prove I'm worthy by leading the team to victory at the Fourth of July charity match, and getting voted in.
Anyway, on the outside, Ryan and I have our similarities—only he's taller, has better skin, a whiter smile, brighter blond hair, and more defined muscles. But on the inside, I'm convinced we're entirely different people. He's so sure of himself. He's commanding, and unbothered—everybody loves him, and he knows it.
"What are you guys doing here?" Meyers grins.
Ryan hasn't been to school in weeks. None of the graduating seniors have, really. He forces a smile. "Cleaning out my locker. Same as you. They just tagged along."
He's jokingly referred to himself as the apex predator, and it's kind of true. If he's the lion or the great white shark, the other guys are more like zebras or mackerel.
Ryan looks to me expectantly. "Zack?"
"Sure," I say.
He then gestures for me to follow him a few steps away from everyone else, toward Coach's office door, and leans in to whisper. "We have a little situation on our hands. Nothing major, but also…not great."
I swallow. "Okay."
Noel shoots me a look and gestures for Carlos and Murray to turn toward us, too. I must visibly react to their sideways glances, because Ryan whips his head around and then sighs once he's facing me again. "Don't pay him any attention, dude. You can't show him that he bugs you. You need respect to be a good captain. So, earn their respect. Confidence. No weak shit."
Ryan absolutely taught us many lessons as captain.
Tough times don't last, but tough guys do.
We can feel sore tomorrow or sorry tomorrow—our choice.
We either have results or excuses, but not both.
Ryan never showed weakness.
He blinks, and I snap to. "No weak shit." After a beat: "I mean, that is, if the vote—"
"You're my legacy here, Zack. Everybody knows I'm the one who plucked your ass from JV, and now you're the best player on the team." He gestures toward the newest trophy and then rolls his eyes. "Well, after me, obviously."
I nod. "Of course."
"Own it," he says. "You're captain. It's yours. And so is that next States trophy."
More nodding.
"There's just this…hiccup," he says, clearing his throat and standing up straight before whispering even lower. "You know there's always some senior prank action, it's not a big deal. I thought it'd be funny—harmless, even—to play a little joke on the Menendez Day School dorks. They were so salty after States. So, and I know how it sounds now that it's—" He sighs. "I found this dead hammerhead over by the pier, right? I mean, it's not like I killed it. It's washed up and it gives me an idea. And so, I snuck in this morning and put it in Johnny's locker at Menendez. Only now Johnny's texting me that he knows I did it and he ratted to their coach."
My jaw involuntarily drops.
What the hell, Ryan?
"It was just harmless," he says, as if reading my mind. "Just a reminder that, I don't know, they can't escape the Hammerheads. There's some kind of symbolism there."
And as if on cue, the door bursts open and there is the red-faced coach from Menendez Day School.
"Yeah, symbolism." I shrug. "That the Hammerheads are dead."
Author